Brittany and I love traveling to new destinations!  As we live out West, we don't make it to the Deep South very often, but when we do, it is always a lovely treat!
We packed our flip-flops, big floppy hats, neon attire, and set off on another trek to find American Legends! We began our adventure checking out the new Jeep selection at New Smyrna Chrysler Jeep Dodge Ram. We were excited to see that the new Jeep Renegades are hitting dealerships! Every time I visit a Jeep dealership, I feel like I'm in a candy store! David Meeks, vehicle sales expert, was our own personal tour guide! He showed off their candy color Jeep Wrangler assortment, he shared his favorite local spots to visit, and sent us on our way! We love that they have a modified Poison Spyder custom Wrangler in their showroom too!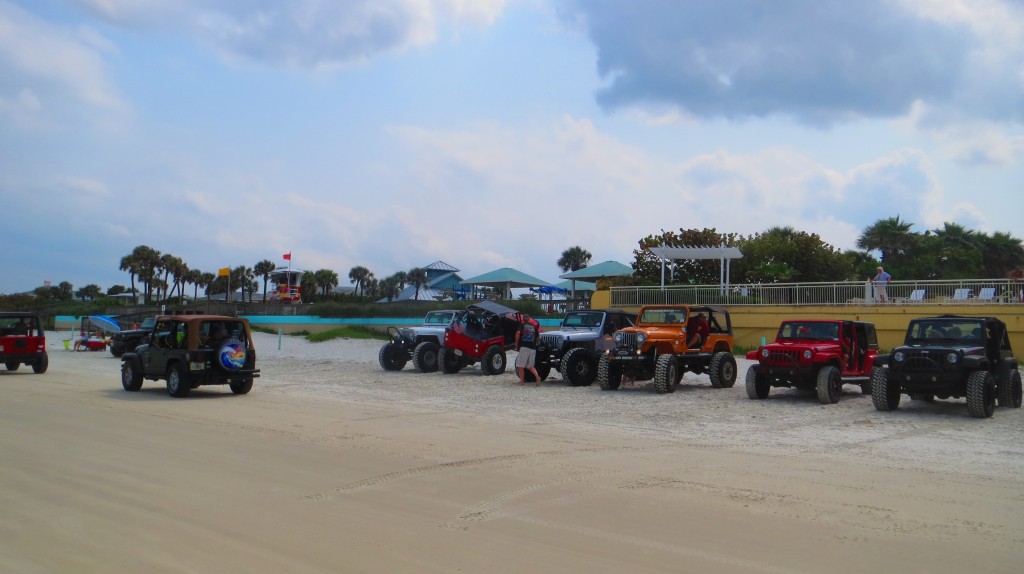 Our main mission was to explore Florida's Historic Coasts. We couldn't choose just one, so we did both! We started our trip on the Eastern Coast at The Shores Hotel & Resort, which is situated in beautiful Daytona Shores. We enjoyed a magnificent ocean front room, overlooking the water. When the morning sun rose, I jumped on the balcony and watched all the Jeep Wranglers cruise down the beach. I called Brittany over to see the parade of Jeep vehicles enjoy the Florida sun!  It's so neat that on some of Florida's beaches, you can actually drive on the beach!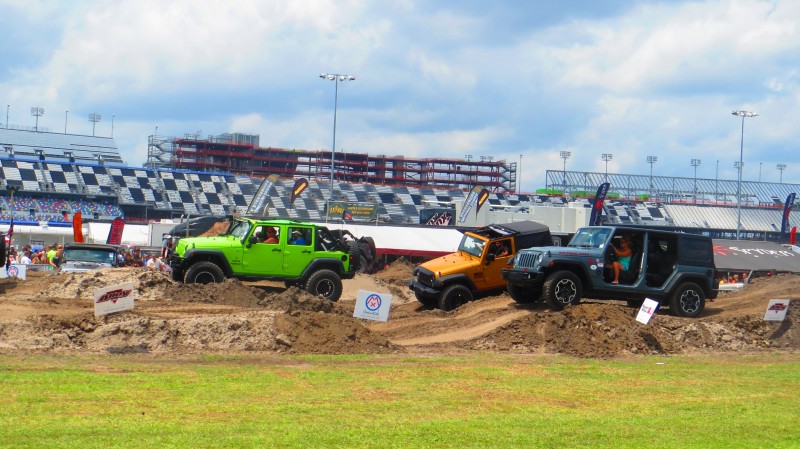 After the morning parade, we shared the Challah Bread French Toast and a delicious crab cake benedict at Azure Restaurant. With so much to see, and so little time, we headed over to the Daytona International Speedway in our new Copper Brown Pearl Coat Oscar Mike edition Jeep Wrangler to visit Jeep Beach! We have never seen so many Jeep Wranglers in one place! Solely volunteers orchestrate the event! It is incredible! Jeepers from around the country gather together at Jeep Beach to drive over the obstacles, connect with other like-minded Jeep enthusiasts, and celebrate this wonderful lifestyle on the beach!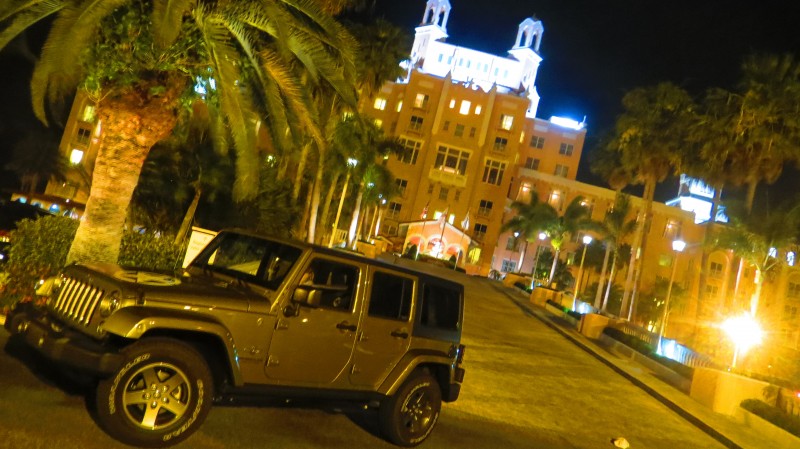 Brittany and I checked out the of the vendor booths, discovering new products, and spent time meeting new friends. We stopped by The Daytona Beach Area Convention and Visitors Bureau and can not wait to come back to check out the Daytona Lagoon waterpark!
After a day of visiting with fellow Jeep enthusiasts, Anika and Joanne welcomed us at The Roomba Inn & Suites, which also sits on the ocean!  It is in a great location and has a lot of personality. The Roomba is the perfect place to stay, especially when a wrench is thrown in your travel plans! The staff is very friendly, efficient, and accommodating! The breakfast is a lovely treat to get your day going! Brittany and I enjoyed the ocean breeze as we sat on the balcony and looked at pictures of all of the neat Jeeps we saw at Jeep Beach!
We loved the green and black color combination on the Poison Spyder custom Jeep Wrangler, the neon green web shade and the power folding side steps were so useful!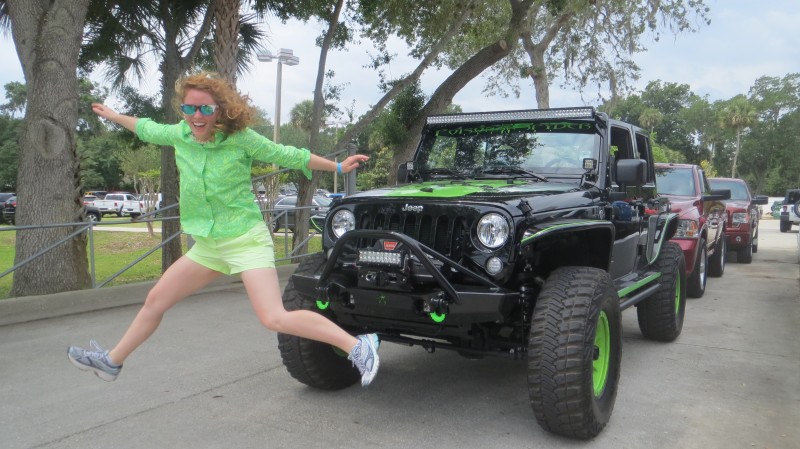 We spent another day celebrating Jeep Beach, and watching people drive their brand news Jeep Wranglers over the obstacles! With so many "Jeepers" in Daytona Beach, there are so many great people to meet! This year at Jeep Beach, the Guinness World Record was set for The Largest Parade of Jeeps, with 1,846 Jeeps!
With more to see and explore on Florida's Historic Coasts, we literally drove coast to coast over night! We drove a short three hours from Daytona Beach to St. Pete Beach. After we drove over the bridge in St. Pete, we knew we were in for another sweet Florida treat! We visited the Loews Don CeSar Hotel! I have read so much about "The Don" and always wanted to visit the famed "Pink Palace."
As soon as we entered the lobby of the hotel, I felt as if we were going to one of Gatsby's parties! The charm and character that this property exudes is simply magnificent!  Upon opening in 1928, the property served as a hotel, a convalescent center for airmen during the second world war, the VA Regional Office and rec center, and since 2003 it has become a Loews Hotel.
"The Don" is also the founding member of The National Trust of Historic Hotels of America. After a wonderful slumber, we had breakfast at Sea Porch. Brittany and I shared the open-faced breakfast Cuban sandwich and the coconut pancakes with mango, mint, key lime chantilly, and ginger maple syrup!
For lunch, we headed to the beach for a lunchtime express yoga class. It was great to feel the sun as we did some afternoon stretching on the powder sugar like sand of Florida's Golf Coast! We were simply in paradise! Afterwards, we grabbed our swimsuits, favorite books, and sat on the beach under an umbrella to shade us from the warm afternoon rays. It was the perfect "Pink Daycation" and just the thing we needed!
The Loews Don CeSar has so many unique amenities that we didn't want to leave the property! From a daily variety of complimentary fitness classes (on the beach, in the pool, and in the studio), two outdoor pools, two on location restaurants, retail shops in the lower level, and a Sunday-Thursday hosted Speakeasy reception in Maritana Grille, and a tasting on Fridays and Saturdays in The Lobby Bar, there is just so much to do and experience! They can even make "Jeep" chocolate!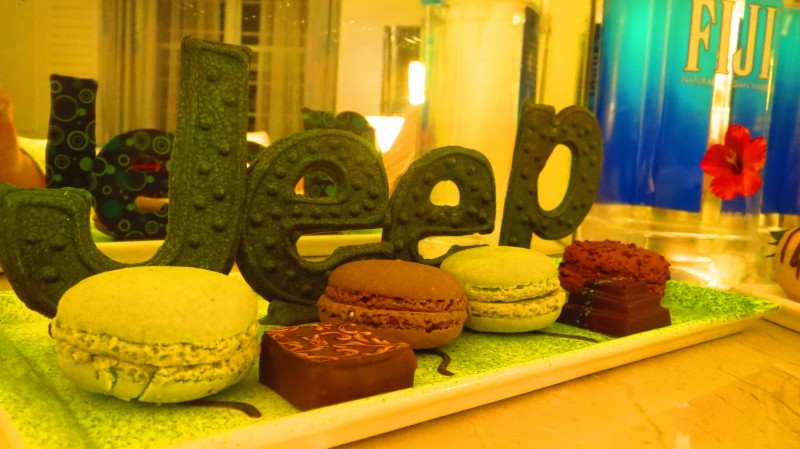 On our final day at The Loews Don CeSar, a little thunderstorm rolled through the beach. It was so refreshing to watch the palm trees swing and sway in the rain from the grand windows at "The Don."
After we packed up our Oscar Mike Jeep Wrangler, we headed back to the famous North Eastern coast to check out St. Augustine, America's Oldest City. We arrived just in time for happy hour at The Bayfront Marin House, where me met our evening hosts Emery and Brian.  As soon as we checked in, I noticed a beautiful Hydro-Blue Polar Edition Jeep Wrangler. Brian mentioned that it was one of their recent purchases, how much they love Jeep Wranglers, the importance of the "Jeep Wave" and always helping out fellow Jeepers. We couldn't agree more!
After chatting with Brian about the "must sees" in St. Augustine, we went on one of the Ghost Tours of St. Augustine. As we walked through the historic district and visited Castillo de San Marcos, we learned that this year, the city would be celebrating their 450-year birthday! We took photos on our ghost tour, and compared the different colored orbs and energy balls with one another on the tour.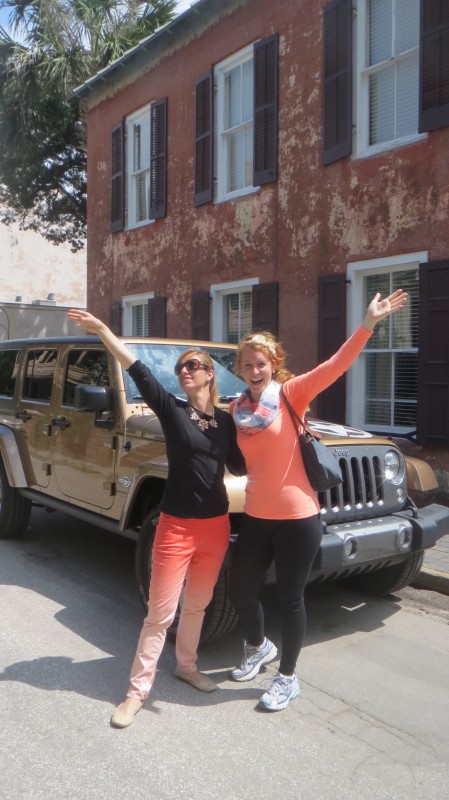 On our final morning, we had a full day of adventures planned!  (A common theme for us, so much to see, but never enough time.) At breakfast, we met Sandy, fellow Jeep owner and owner of the Bayfront Marin House. During breakfast she shared some of St. Augustine's rich history with us and gave us a fabulous tour of the property. She even pointed out that the terra cotta colored building is the original house that was built in 1790. The back of the building was painted with ox blood, giving the building a rich red color.
Once we waved our "Jeep Wave" goodbye, we climbed to the top of the St. Augustine lighthouse, opening in 1874; it still serves as an active lighthouse.
We also visited The St. Augustine Alligator Farm and Zoological Park. It is an accredited zoo with educational shows, exhibits, and a new zip-line attraction in which you can zip across the entire park! I have never seen so many different types of alligators! What a sight! We even had an opportunity to feed the alligators with dry food for just 25 cents! It was so neat to drop a dry pellet in the water and watch them snatch one little piece of food within seconds!  They have incredible vision, and they swim very quietly! If you are ever in Florida, watch out for these neat creatures!
Before leaving St. Augustine, we met Barbara Golden from St. Augustine's Visitor and Convention Bureau for lunch at The Café Alcazar, which is actually in the location of the world's largest indoor swimming pool. The pool is no longer there, but it is very cool that the restaurant slopes down, as tables are in the deep end.  The restaurant is also situated in the Lightner Museum, which houses relics from America's "Gilded Age."
We loved visiting Florida's Historic Coast! We learned that there is still a lot more to see and explore! Next time, we need to visit the Fountain of Youth, so we can continue to explore forever.
For Brittany and myself, every adventure is about the people we meet! We are so thankful to be a part of this wonderful community and lifestyle!
To all the Jeepers out there, thank you for being so amazing and sharing your stories with us.
We'll see you out there!
"Jeep Wave"
Ashley & Brittany
The Jeep Girls